Was Bela Lugosi overly Dramatic or a Master of his craft?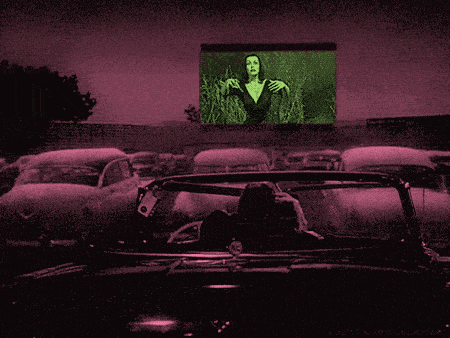 I came across a very cool GIF (pronounced JIFF, like the peanut butter) the other day that caught my eye. It captured my attention because it presented two of my favorite things, the graveyard scene featuring Vampria from one of my favorite classic horror movies "Plan 9 from Outer Space, featuring the great Bela Lugosi,and the big screen at a drive in theater from the past.
Hot Michigan summers from my youth always included several monthly trips to the various "Drive-In's" around my neighborhood. We'd all pile into someone's large car, usually four friends, (always two people in the trunk to reduce the cost of admission, and then split the total cost by all). We'd sneak in a case of "Old Milwaukee" beer, and get ready to watch movies on a Friday or Saturday night. Motivate by dancing Hot Dogs, hamburgers and ice cream during intermission, we always spent our small weekly allowance to gorge ourselves from the snack bar.
The movies were the best. Whether it was "Dusk to Dawn" horror movies (my Favorites), or "Car Washing Cheerleaders", or teen movies full of topless girls at drunken parties. Life was good at the Drive-in!
One of the movies that I never had the pleasure to see at the Drive-In was "Plan 9 from Outer Space". This movie featured some of my favorite actors late in their careers. Bela Lugosi (He pronounced it Bay-La) , Tor Johnson, and Maila Nurmi (Vampira). This movie is supposed to be the worst movie ever made. I think it's a masterpiece. All three of these actors gave the performance of their lives, even though the compensation they received was pitiful.
The one scene that I can watch over and over is Bela coming out of his home (Tor Johnsons REAL home in the LA area) after his wife dies. He looks at a flower, walks off camera and is hit by a car! We all now know it was one of the last scenes shot before he passed away  60 years ago on August 16th, 1956. Click here to see that scene and all the raw footage that Ed Wood shot for the movie.
What fascinates me with this simple scene is how melodramatic Bela Lugosi is in it. He really gives his heart and soul in this small scene. That's what makes his performance and this movie such a masterpiece! Bela Lugosi truly was a master of his craft, and his work will live on forever.
Leave us a comment, and tell us your beloved drive-in or movie stories. Don't forget to sign up for our newsletter, or join our "Monster Fan Club" until next time!
Kile Summers
Category: Horror News