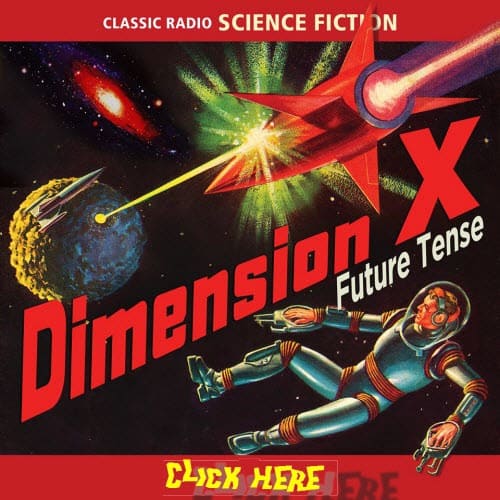 I love everything about Science fiction! Especially watching some of my favorite movies, The "Thing from Another World" (1951) "The Day The Earth Stood Still" (1951) "Forbidden Planet" (1956), "Invasion of the Body Snatchers" (1956) and the list goes on…. People in the 1950's were so fascinated with Aliens, UFO's, and life on other planets.
It wasn't until I listened to Orson Welles, Sunday October, 30th 1938 broadcast of "War of the Worlds" that I became totally mesmerized by Sci-Fi Radio dramas. This year marks the 78th anniversary of that broadcast and it will actual fall on the same date, as the original broadcast!
Television was the new, hot thing during the 50's, but Radio is best at the "Theater of the Mind" experience! Radio was an excellent medium for science fiction in the 1950s. It was easy to visit other planets, interact with aliens or fly in a space ship in your imagination. It wasn't so easy to bring to life on TV in the 1950s!
We've found a wonderful 1950's Sci-Fi Radio drama series called "Dimension X" for your listening pleasure.
Dimension X featured stories from some of the most well-known science fiction writers at the beginning of their career such as Robert Heinlein, Ray Bradbury, Kurt Vonnegut, and Isaac Asimov. The original stories were adapted by script writers, Ernest Kinoy and George Lefferts, as well as contributing their own original scripts.
Before Dimension X, only one other adult-oriented science fiction show appeared on radio (Two Thousand Plus) but, with the well-known writers involved, the show had almost instant credibility with science fiction fans.
The show first aired April 8, 1950 and completed its run on September 29, 1951. There were 50 episodes during the shows run. We'll pick some of the best episodes for you to enjoy.
Sit back and relax, close your eyes and we'll take you back to 1951…..
"Sending Chills Your Way"
Kile
Usage Attribution-Noncommercial-No Derivative Works 3.0 United States
Category: Horror Stories, Sci-Fi Radio Dramas